Welcome
A unique companion with a glam, pin up model look.
Here you will capture a glimpse into the very essence of Skylar Silverstein.
Introduction
STATS
Height: 172cm / 5'8
Size: 10
Breasts: 12 DD
Eyes: Green
Hair: Blonde
Age: Cougar
Here you will capture a glimpse into the very essence of Skylar Silverstein.
A unique companion with a glam, pin up model look. Expectations are always exceeded upon meeting. Dressed polished and upmarket, you can be assured I blend in effortlessly in any 5 star hotel. Think Burberry trench coat teamed with Louboutin heels. A gift to you waiting to be unwrapped. Underneath a vision of a curvaceous slim body encased in fine lingerie and stockings and Chanel No 5 parfum lingering.
My positive reviews reflect the wow factor I bring to every gent I meet. Beauty aside you will be at ease instantly by my friendly, engaging personality, wit and humour. Every encounter is about connecting with you and discovering how to ignite your passions within. I am a confident, seductive lady ready to take you to realms unchartered.
I look forward to meeting,
Kisses
Skylar x

SWA 7895XE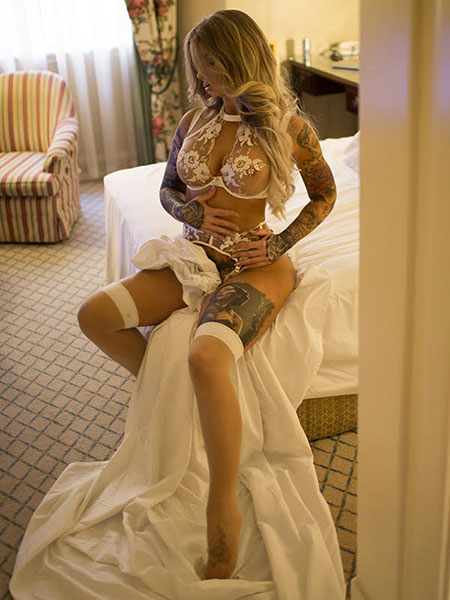 Rates & Services
EXCLUSIVE GIRLFRIEND EXPERIENCE
($50- $100 travel fee may apply depending on location
INCALL & OUTCALLS
1 hour ... $550.00 AUD

1.5 hours… $900.00 AUD
2 hours…$1100.00 AUD
3 hours…$1500.00 AUD
Overnight ... $5000 AUD (12 hours incl minimum 6 hours sleep)
Please Note: A $200 deposit is required for all new clients. I am able to reschedule in select circumstances however deposits are non refundable for cancellations 24 hours prior to booking.
FLY ME TO YOU
I am able to fly to you anywhere interstate and can also organise the hotel arrangements.
Rates are inclusive of flights, accomodation, Uber
A minimum booking for FLY ME TO YOU is 4 hours.
Please enquire for rates.
DOUBLES
I can bring another lady or male for a doubles or lesbian doubles booking. Advance notice is required for suitable availability.
COUPLES
$1000 1.5 hours
$1600 2 hours
I enjoy spending time with couples who are exploring for the first time or experienced. Discovering desires in a discreet, safe environment is paramount in maximising a successful couples booking. Happy to discuss what you are wanting to discover beforehand and any boundaries respected.
Contact:Monday to Sunday 11am until midnight. SMS or email preferred. I am available to speak on the phone at a mutually agreeable time. Deposits are required for international and Australia wide bookings upon invitation.
INTERNATIONAL TRAVEL
Available internationally to most destinations. I can join you on a business trip or vacation. Please use the booking form to enquire about International rates.
Tours
Sydney : 22nd to 25th Feb 2023
Hobart: 3rd to 5th March 2023
Please note:
Deposits are essential to secure a booking on tour.
Screening & Verification
Contact: 0422 223 694
International: +61 422223694
A $200 non refundable deposit is required to confirm your booking request.
Direct debit and Beemit are preferred.